1. The history of our Mill – an evolving production tool
Originally: a farm operation...
Our mill, originally called Moulin du Mas-Neuf, dates from the XVIIth century. The primitive mill, built in line with Baussenque architecture with its stone vaults, still has an authentic chapel press. Its monumental beam and the bench are made of wild pear wood…
The olives ground under the granite wheel formed a creamy paste, which was spread by hand onto braided coconut fibre discs called "scourtins". They were stacked under a press operated by hand. When human strength was no longer enough, they attached a rope to the lever, to activate it by means of a winch. The juice extracted through the scourtins, comprised of water and olive oil, was placed in stone vats, where it rested and naturally decanted. The oil remaining on the surface was harvested using a flat utensil called a "feuille". Our press had up to 3 millstones and 4 presses. In that era, the hard work could process a maximum of 50 metric tons of olives, working day and night with 10 workers.
Creation of the Cooperative...
Today, the mill has become a Cooperative Mill. Owners of olive groves came together to share the investment that in the presses, the vat room and everything needed to create a flawless product, for themselves, their friends and all lovers of this sublime "fruit juice".
The first modernisation of the mill took place with the arrival of the first tractors. Using systems of wooden pulleys and leather belts, the tractors led the grinding wheels and water pumps that operated the presses. Later came the first mechanical water/oil separators.
The work was facilitated by a more efficient tool, allowing a larger tonnage to be processed at a lower cost.
The new revolution, "electricity", allowed the tractors to be replaced with a rheostat motor.
Super-presses...
The entire belt system has disappeared and each machine is now autonomous.
Each hydraulic press is equipped with its own water pump, making an even higher pressure possible. This power allows "cold" pressing, at a temperature not exceeding 30°, thus preserving the flavours of the oil.
Arrival of extractors
The hydraulic presses and grinding wheels disappear to make room for a continuous extraction line consisting of a hammer mill, a line of malaxers, a decanter and a separator.
This modernisation allows air-free extraction, avoiding oxidation of the oil, and continuous temperature control at all stages of manufacture. The storage tanks are placed under nitrogen.
Purchase of the second continuous line
In order to respond to the increasing production needs and our constant concern with improving the quality of our work tools, the mill invested in a second continuous line.
The 1st line can grind 1 tonne of olives per hour and the 2nd line can grind 3 tonnes per hour. This considerably reduces the storage time of olives, to produce a very high quality oil.
Purchase of three strippers
Stripping allows the olive leaves to be automatically separated. This makes production faster and olive weighing more accurate for members of the cooperative.
Climate control of our vat rooms
All facilities are climate controlled to store our oil at the ideal temperature of 18°.
Purchase of two new continuous lines
They have increased productivity and brought great flexibility. The first chain processes 2.5 tonnes of olives/hour; the second processes 3.5 tonnes of olives/hour.
All of these major investments were possible in part through European grants.
The cooperative principle is still as alive today as it was at the creation of our Cooperative, and our 450 members continue the tradition.
Celebrating the centennial of our cooperative
A third mill will be built in 2020. Construction is underway and it will produce "ORGANIC" AOP Extra Virgin Oil.
2. From producer to consumer
Crop – Maintenance – Harvest
Today, our cooperative has nearly 450 members. These olive producers continue to grow their olive groves in the traditional way, following a ritual schedule respecting the life cycle of the olive tree.
Pruning and maintenance time : an intense spring pruning of the trees is done every 2 years to obtain a better selection of fruits. Light soil cultivation, sometimes with planting of grass, and a controlled supply of organic nitrogen.
Harvest time : the "Olivades"
The month of November is a month of family celebrations during which olive growers, seasonal workers and residents of Vallée de Baux come together for the harvest.
Some, perched on ladders, pick by hand or comb and fill their baskets with olives. Olive growers whose harvest areas are larger use a "gaulage" or shaking technique: This involves large sticks with metal claws or small mechanised propellers attached, which gently shake the branches and cause the olives to drop onto on large nets spread out at the bottom of the olive trees.
The olives, placed in crates, are taken to the mill the same day.
This allows elimination of fruits of lower quality and optimum sanitary conditions.
The olive grower is required to fill in a crop log, in which he records all interventions carried out on the plots and which can be checked at any time by the various organisations guaranteeing AOC and AOP status.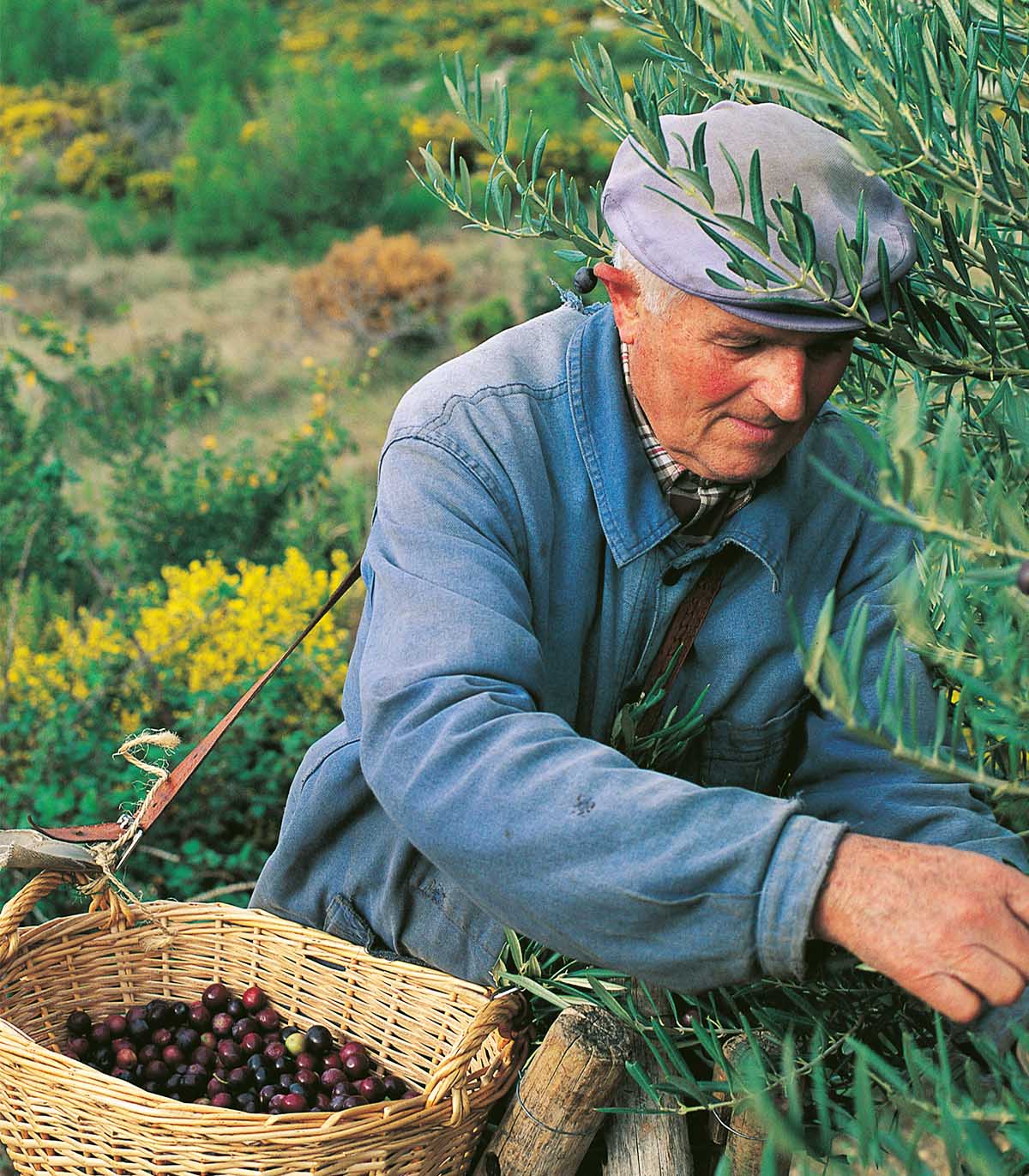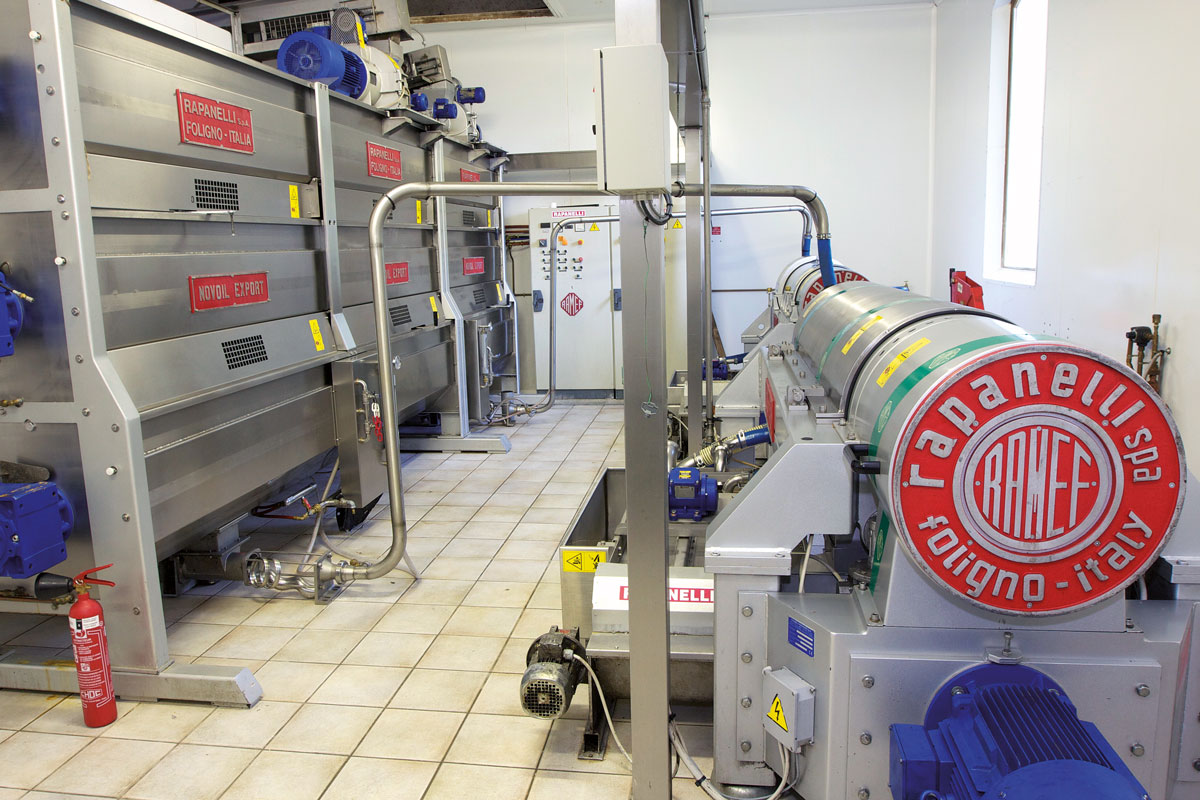 Manufacturing :
Weighing, stripping, washing: The first important stage happens when our members arrive. The olives are weighed and inspected. Quality control is essential. Only olives in perfect sanitary condition and that strictly meed our AOC/AOP specifications are accepted.
The olives are then stripped using ventilation, then washed with clean water.
Grinding, malaxing, decantation and separation:
The fruits are processed within 24 hours of their arrival at the Mill. The olives are moved by conveyor to the hammer mill, which transforms them into a paste. This paste is directed into a series of malaxers, comprised of long augers that homogenise the material and allow a maximum amount of oil to be released. Then the solid material (debris of pits, skin, cell walls, etc.) and liquids (oil and vegetation water) are separated: this is decantation. Using horizontal centrifugation, the grignons (solid part) are rejected to outside of the mill. The liquid part continues its process in the separators, vertical centrifuges that separate the oil from the water.
The oil is then ready to consume; no additive or other treatment will be used on it.
Our Master Miller continuously checks the smooth running of the process and makes sure to produce a high quality oil, typical of our terroir and our Mill.
Our preparation technique allows for the creation of an excellent quality extra virgin olive oil, prized by the finest gourmets. This green fruit cold transformation technique requires 6 kg of olives to produce an average of 1 L of oil.
Storage and testing :
Our oils are stored in stainless steel tanks, away from light, under controlled temperature, and kept under inert gas (nitrogen) to avoid oxidation. Thus the oil maintains its flavours. All of our tanks are tested by authorised laboratories every 3 months to continually meet the Vallée des Baux de Provence AOP criteria.
Bottling :
We bottle as we go, according to our sales needs.
Consumption :
The oil produced belongs to the members of our cooperative, who use it as they wish. Part is collected by them for their personal consumption or their own sale. The rest is sold by our Mill's boutique, through our online boutique (put a link to the e-boutique) and in various distribution circuits in France and abroad.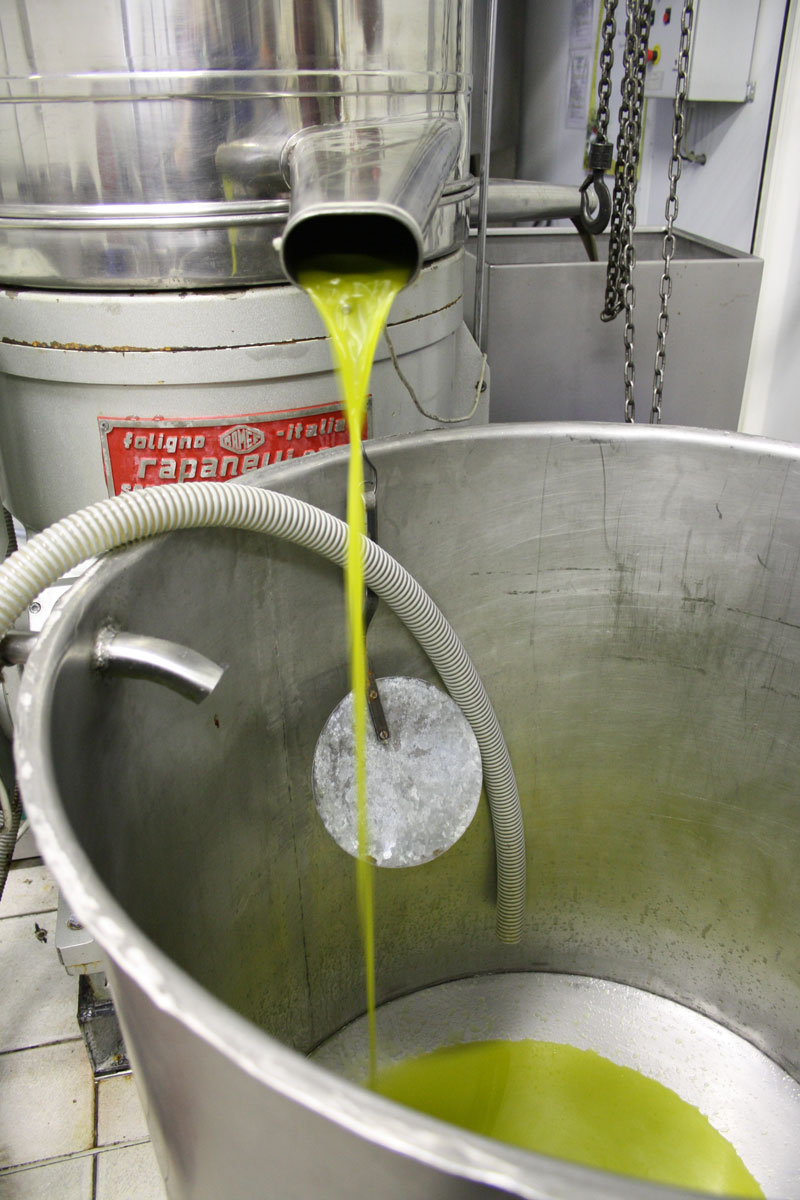 Buy our olive oil
AOP or Non-AOP, you will find the oil for your taste !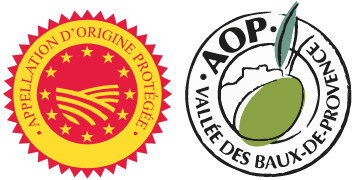 Production of our oils comes from our terroir, the Vallée des Baux de Provence. With about 580,000 olive trees (including about 80,000 just in the commune of Mouriès), grown on 2000 hectares, it offers the highest density of olive trees in the south of France. Many new olive groves have been planted in the valleys of the Alpilles for prevention of fires: a well-maintained orchard is excellent fire protection! It has 10 mills. The olive oil production of the ten communes of the Vallée des Baux represents 70% of the production of Bouches-du-Rhône and 15% of the national production of France. Mouriès is the premier olive-producing commune of France.
A. Provenance and Appellation
1. L'AOP of  VDB

Appellation d'Origine Protégée (AOP) (Protected Designation of Origin) certifies the quality of the product and guarantees its origin. It is a traceability implemented across Europe with very strict specifications. In olive production, the designation guarantees: the geographical origin of the olives and the unique use of varieties typical of this region, the growing methods and the production method of the specific oil in the same geographical sector.
These provisions are defined by decree and implemented after verification by the Institut National des Appellations d'Origine (I.N.A.O) [French National Institute for Designations of Origin]. Application of these provisions is placed under the control of a management organisation and an independent inspection organisation. Therefore, AOP is an undeniable gauge of quality for the consumer.
In 1995, the Conseil National des Arts Culinaires [French National Culinary Arts Council] awarded the Vallée des Baux the "remarkable site of taste" label for its olive grove. It was awarded three Appellations d'Origine Contrôlée for its olive oil, its cracked olives (olives cassées) and its black olives in 1997.
AOP Vallée des Baux Olive Oil represents 75% of our production.
AOP Vallée des Baux Olive Oil includes the following 4 main varieties of olives :
Grossane : a speciality of the Vallée des Baux, it is a big black pulpy olive that produces a mild oil that, pitted and peppered, is also used as a table olive.
Salonenque : a main variety of the terroir of the Vallée des Baux, this olive has the best yield and gives the oil a lot of smoothness. It is also used for preparation of cracked olives (olives cassées).
Verdale : typical of our region, it is used for oil but also in confections.
Béruguette or Aglandau : a variety that gives the oil a robustness and a characteristic green colour, it has a good yield and can also be used as a table olive.
To these varieties, Picholine, originally from Gard, may be added in a smaller quantity (maximum 10%).
2. L'huile d'olive de France

Huile d'Olive de France comes from olives from our terroir, our typical varieties, but from olive growers that do not want to be classified as AOP. It does not use olives harvested outside of the terroir or downgraded. Huile d'Olive de France cannot have the AOP label, but is still a high quality oil, produced at the mill under the same conditions as our AOP oils.
Concerning our Fruité d'Antan, it is produced with AOP olives, but the maturation leads to a change in the oleic acid content of the oil, which often exceeds the level authorised by the AOP specifications. Therefore, it cannot be AOP, even though it meets all the other criteria.
3. L'AOC Provence
L'AOC Provence (Provence Controlled Designation of Origin) was created in 2007. Since our terroir is included in the scope of this AOC, we also process the olives of the concerned olive growers. L'AOC Provence represents 1% of our production.
B. The characteristics of our oils

Extra virgin and higher class
The olive oil is extracted only using mechanical processes. During the transformation, the olives do not undergo any processing other than washing, grinding, decantation and centrifugation.
Olive oil is considered extra virgin when its free acidity expressed as oleic acid is at most 0.8 g per 100 g.
Packaging
Our olive oil is available in :
25 cL, 50 cL, 75 cL and 1 L glass bottles
25 cL, 50 cL, 1 L metal containers
3 L and 5 L plastic food containers
3 L and 5 L bag in box (BIB)
Our bottles are equipped with special very practical caps, which cannot be reused or tampered with. Just unscrew the grooved part of the cap and let the oil flow out.
Bottling is carried out by us at the mill in our laboratory, inspected by the health and safety services (Socotec- Euro hygiène-Véritas), just like our other facilities.
Produit de France
Mention garantissant que les olives sont bien récoltées en France et l'huile produite en France. Cette mention est obligatoire.
Unfiltered
The juice of the fruit not filtered. Therefore, the micropulp of the olive remains in suspension.
This pulp naturally decants in the tank, more or less quickly. Sometimes, a deposit forms in the bottle. It does not alter the quality of the oil in any way.
Best Before Date and storage
The Best Before Date is calculated from the date of bottling, to which we add 18 months. After this date, the oil can still be consumed, but you should be aware that olive oil, unlike wine, does not improve with age; therefore, it will have a tendency to progressively lose its characteristic flavours.
Olive oil oxidises quickly in light. Therefore, it is recommended that it be kept away from light, head and humidity to prevent its deterioration. The ideal storage temperature is between 15 and 25 degrees.
A lower temperature risks the oil congealing. While this will not change its quality in any way, its appearance will be less desirable.
Traceability
In addition to the traceability imposed by the specifications of our AOP, we follow food traceability requirements and affix a batch number on each bottle or container that we sell.
This number allows for follow-up in case of quality defect. The consumer can check the traceability of the oil from to the initial suppliers.
C. Flavours and specific features of our oils
1. Our Fruités Verts :
The olives are pressed within 24 hours of harvest to obtain an olive juice with specific aromas: fresh hay, tomato leaves, raw artichoke, apple, almond, fresh hazelnut, cut grass.
– l'Onctueuse has a delicately expressed green olive flavour, followed by a very mildly spicy taste. It offers a long finish and a thick texture.
– l'Ardente has more pronounced flavours and lovely spicy sensations (after all, "ardente" means robust).
– l'Huile d'olive de France has all the qualities of an extra virgin olive oil with pronounced plant aromas.
2. Our Fruité d'Antan

The olives, brought in the same day they are harvested, are sorted and stored in anaerobic (air-free) conditions for ripening of the fruits. To meet AOP specifications, the olives must not be stored for more than 6 days. Longer storage (up to 15 days) achieves even more subtle flavours. Preparation of this oil requires vigilance and the specific expertise of our miller.
Our Fruité d'Antan has a strong flavour with aromas of candied olives, black olives, cooked artichoke, cocoa, truffle, mushroom or leavened bread.
FIND ALL OF OUR PRODUCTS FROM PROVENCE AT