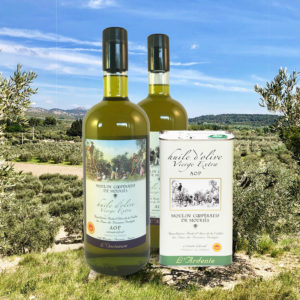 All of our oils come from the terroir of the Vallée des Baux de Provence. They are prepared using the knowledge of our Master Miller, who artfully assembles the five varieties of olives of the Vallée des Baux: Salonenque, Béruguette, Verdale, Grossane and Picholine.
Our oils are cold extracted, obtained directly from olives and only using mechanical processes. Our oils are not filtered and may have a slight deposit, which does not affect the quality of the product.
Flavours and specific features of our oil
1.The Fruités Verts:
The olives are pressed within 24 hours of harvest to obtain an olive juice with specific aromas: fresh hay, tomato leaves, raw artichoke, apple, almond, fresh hazelnut, cut grass.
L'Onctueuse has a delicately expressed green olive flavour, followed by a very mildly spicy taste. It offers a long finish and a thick texture.
L'Ardente has more pronounced flavours and lovely spicy sensations (after all, "ardente" means robust).
Huile d'Olive de France has all the qualities of an extra virgin olive oil with pronounced plant aromas.
The olives, brought in the same day they are harvested, are sorted and stored in anaerobic (air-free) conditions for ripening of the fruits. To meet AOP specifications, the olives must not be stored for more than 6 days. Longer storage (up to 15 days) achieves even more subtle flavours. Preparation of this oil requires vigilance and the specific expertise of our miller.
Our Fruité d'Antan has a strong flavour with aromas of candied olives, black olives, cooked artichoke, cocoa, truffle, mushroom or leavened bread.
9,90

€

TTC

Soit 43,60€ le litre